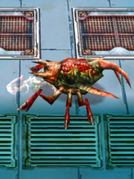 Battlemites are the Mega Unit for the Myriad race. They attack by firing acid in a cone shape formation and can strenghten nearby friendly units (only after research). Their attack strenght is aproximately 33% and has 700% of health in total.
Unit Statistics
Edit
Combat Stats
Attack Damage: 33
Attack Type:

Cone/Spread

Short ranged
Defense Stats
Health: 700
Armour: 260~
Movement Speed:

Slow
Available Researches: Craze, Disorge
Effected by (Researches): ...
Requires: Fearsome Creatures (Research), Higher Knot (Building)